► Price

* Adult 125,000won / $125 / per person
* Child 88,000won / $88 / per person / Child-under 10 year-old


► Itinerary
Day

location

Time

Itinerary

Meal

Day 1

Seoul
Chuncheon

Gapyung
Seoul

08:00



17:00


Hotel Pick-up
Nami Island
Lunch
Petite France
Hotel Drop-off



► Conditions
* English Speaking Guide
* Hotel pick up Service, Transportation
* Entrance fee
* Taxes


► Remarks


► Description

"Winter Sonata" is a Korean drama launched back in 2002. It became huge across the nation as well as Europe and other neighbouring Asian countries. This is the beginning of "Hallyu the Korean Wave" where a lot of Korean made soaps/films started going viral across the planet and were appreciated by people all over the world. This trip will allow you to visit the place where it all began. On the way back from Nami island, you will be brought to "Petite France a.k.a The Little France in Korea" is a French cultural village as well as a youth training facility with 16 french themed buildings where you can lodge and experience French culture, clothing and foods.


Namiseom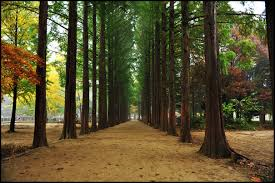 Namiseom Island was formed when water became blocked and a lake came into being due to the construction of the Cheongpyeong Dam. It is a half moon shaped (462,809㎡) isle, and on it is the grave of General Nami, who led a great victory against the rebels in the 13th year of the 7th king of the Joseon Dynasty, King Sejo (reign 1455 ~ 1468). Namiseom Island is 63 km away from Seoul in the direction of Chuncheon, and is famous for its beautiful tree lined roads. The island is 30 minutes away from Chuncheon and an hour away from suburbs of Seoul. Since it is not far from Seoul, many couples and families come to visit. A special feature of Namiseom Island is that there are no telephone poles. This is because all electric wires were built underground to keep the natural feeling of the landscape. The complex is 553,560 square yards with chestnut trees and poplar trees around the isle. In the middle of the isle, there is a grass field about 316,320 square yards. It is composed of education and training facilities, camping sites, swimming pools and water-sports facilities for motorboats and water skiing. There is also a theme park with merry-go-rounds, a shooting range, roller skating rink, and there are lodging facilities such as resort villas and bungalows.
Petite France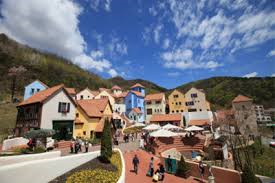 After travelling 10 km along the lakeside road from Cheongpyeong Dam, in the direction of Namiseom Island, you will come across a cluster of white, exotic buildings on the left-hand hillside. From its outward appearance, it would appear to be a village that belongs on the Mediterranean coast or in a pastoral area of the Piedmont Alps. This is Petite France, a French cultural village set in the Korean countryside!
The concept of Petite France encapsulates 'flowers, stars, and the Little Prince.' The village contains a memorial hall dedicated to Saint-Exupery, the author of the celebrated French novel, Le Petit Prince (1943) and as such it is called the Little Prince theme park. It also has a gallery displaying sculptures and paintings of le coq gaulois (the Gallic rooster), the national symbol of France; Orgel House where a 200-year-old music box plays a sweet melody; a shop that sells herbal and aromatic products; a souvenir shop; and many other locales where you can experience French culture. The village can accommodate up to 200 visitors with 34 guest rooms that hold four to ten people each.
Enjoy the marionette experience and hear percussion instruments from around the world, and also enjoy soap bubble experience.