► Price

* won't be settled until at least 1 month prior to the particular season



► Itinerary

Day
location
Time
Itinerary
Meal
Day 1
Incheon

Jeongsun





12:30 -
(16:30 - 18:00)
Incheon Airport Pick up -> Shuttle departure point
Shuttle bus *High 1 resort bound departure
High 1 arrival
(Store Luggage + Claim ski equipment)
Free Skiing
Break Time
Day 2
Jeongsun

8:30 - 16:30


Breakfast (included)
Free Skiing


Breakfast
Day 3
Jeongsun


Seoul

8:30 - 16:30
17:00
20:00
Breakfast (included)
Free Skiing
Shuttle *Seoul bound departure
Seoul arrival
Dinner
Check in Hotel
Breakfast
Dinner
Day 4
Seoul

9:00 -

17:00
Breakfast (included)
Full Day Tour
Nami Island & Petite France
Dinner
Hotel
Breakfast
Lunch
Dinner
Day 5
Seoul



9:30 - 12:30
13:00
16:00
Breakfast (included)
Check out & Store Luggage
Halfday City Tour
N Seoul Tower
Duty Free Shop
Incheon Airport

Breakfast
Lunch


► Conditions

* Hotel Pick up Service, Transportation (Ski shuttle)
* Accommodation as scheduled (4 people in one room)
* Ski pass as scheduled
* Ski rentals as scheduled (Ski + Pole + Boots + Ski Gloves + Ski suits)
* All Taxes & service charges

► Remarks

* The additional charge for renting Snow Board is 8,000won($8)
* Shuttle bus time schedule may differ; Contact to arrange specific time and location*
* Additional Charge 20,000won($20)~40,000won($40) per person on Weekend (Fri~Sun)
* Please contact us for the exact price on the following holidays;
Christmas Holiday and Lunar New Year Holiday


► Room Info



► Breakfast

* Is included


► Description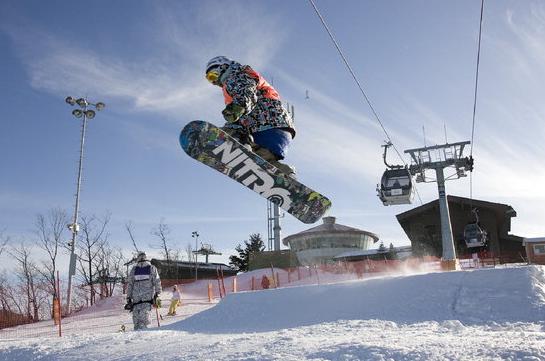 Located in Jeongseon, Gangwon Province, the High 1 Ski Resort is a great vacation spot for families as well as a top resort for advanced skiiers. Several beginner slopes are located right next to the intermediate and advanced slopes, letting skiiers of varying levels ski together.

The High 1 Ski Resort is Korea's most environmentally friendly resort and many of the native trees have been well-preserved. Resort planners hope to develop an all-season ecological tourist attraction, showcasing the region's beautiful wild flowers throughout spring, summer and fall.

In addition to a topnotch skiing experience, visitors to the High1 Resort can enjoy a truly unique dining experience. Located 1,340 meters above sea level is a revolving restaurant, which offers an incredible panoramic view of no less than three different mountain ranges. The restaurant goes through one full rotation every hour, giving diners a complete view of the beautiful scenery of the region. the restaurant goes through a full turn every hour.

Namiseom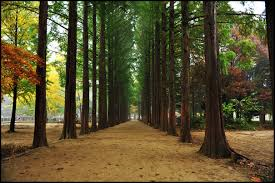 Namiseom Island was formed when water became blocked and a lake came into being due to the construction of the Cheongpyeong Dam. It is a half moon shaped (462,809㎡) isle, and on it is the grave of General Nami, who led a great victory against the rebels in the 13th year of the 7th king of the Joseon Dynasty, King Sejo (reign 1455 ~ 1468). Namiseom Island is 63 km away from Seoul in the direction of Chuncheon, and is famous for its beautiful tree lined roads. The island is 30 minutes away from Chuncheon and an hour away from suburbs of Seoul. Since it is not far from Seoul, many couples and families come to visit. A special feature of Namiseom Island is that there are no telephone poles. This is because all electric wires were built underground to keep the natural feeling of the landscape. The complex is 553,560 square yards with chestnut trees and poplar trees around the isle. In the middle of the isle, there is a grass field about 316,320 square yards. It is composed of education and training facilities, camping sites, swimming pools and water-sports facilities for motorboats and water skiing. There is also a theme park with merry-go-rounds, a shooting range, roller skating rink, and there are lodging facilities such as resort villas and bungalows.
Petite France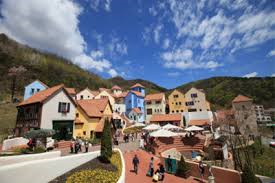 After travelling 10 km along the lakeside road from Cheongpyeong Dam, in the direction of Namiseom Island, you will come across a cluster of white, exotic buildings on the left-hand hillside. From its outward appearance, it would appear to be a village that belongs on the Mediterranean coast or in a pastoral area of the Piedmont Alps. This is Petite France, a French cultural village set in the Korean countryside!
The concept of Petite France encapsulates 'flowers, stars, and the Little Prince.' The village contains a memorial hall dedicated to Saint-Exupery, the author of the celebrated French novel, Le Petit Prince (1943) and as such it is called the Little Prince theme park. It also has a gallery displaying sculptures and paintings of le coq gaulois (the Gallic rooster), the national symbol of France; Orgel House where a 200-year-old music box plays a sweet melody; a shop that sells herbal and aromatic products; a souvenir shop; and many other locales where you can experience French culture. The village can accommodate up to 200 visitors with 34 guest rooms that hold four to ten people each.
Enjoy the marionette experience and hear percussion instruments from around the world, and also enjoy soap bubble experience.
N Seoul Tower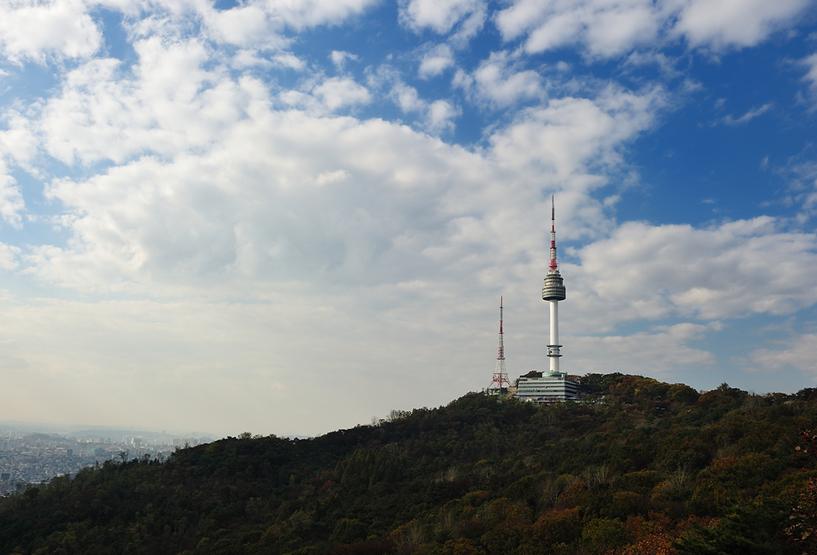 Opened to the public on October 15, 1980, Seoul Tower has been designated as a major tourist attraction where the beautiful panoramic view of Seoul can been seen. The 236.7 meter high Seoul Tower built on the 243m Mt. Namsan has been known as the best tower in Asia. After 30 years of devoted support from tourists, it was remodeled on December 9, 2005 with magnificent new look.
The alphabet N holds the meaning of being new and a total construction investment of 15 billion won in the grand scale remodeling of N Seoul Tower.
Namdaemun Market


Opened in 1964, Namdaemun Market is the first largest traditional market in Korea with various goods in store such as children's, men's and women's wear. The displayed goods are sold at a reasonable price and it also functions as a wholesale market.
Most of the goods are produced directly from shopkeepers. Namdaemun Market is opened from 11:00 pm and at 3:00 am, it is crowded with retailers from all over the country. At daybreak, the site of busy Koreans creates a unique scene in the market where it is becoming a worldwide tourist attraction. With specialized stores grouping together and with the entrance of successful wholesale apparel stores from Dongdaemun, Namdaemun Market today is going through constant changes.